Informix Worldwide Users Conference
July 21-25 1998
Seattle, WA
After working as an Informix database administrator and programmer for more than 6 years, I finally got to attend an Informix Worldwide Users Conference (IWUC98). The 1998 conference was held in Seattle, WA. I had never traveled to the Northwest before and I was looking forward to visiting the area. Seattle is beautiful and I really enjoyed the trip.
I found the conference to be fun and informative. The IWUC organizers held several social events to make the trip more enjoyable for the attendees. The trip was my business trip in a few years. I could not believe the amount of money that the hotels charged for simple things. Even though my company (Eagle Asset Management) was picking up the tab, I could not help but feeling like I was being gouged just about everywhere I went.

On July 21, 1998 I was able to get a ticket for that night's supposedly sold-out concert. Zeke, The Wallflowers and Pearl Jam were playing. All bands were playing for free and all of the money raised was donated to Seattle charities. Over $440,000 was raised during the two shows. I did not really care for Zeke, but the Wallflowers and Pearl Jam were excellent.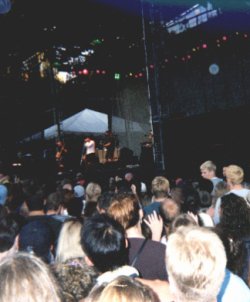 Pearl Jam was on tour supporting their newest album, Yield. The crowd was fired up to see their hometown band. I really enjoyed seeing Pearl Jam in Seattle. I was surprised that I was able to get a ticket on the day of the concert. The timing of IWUC98 was fortuitous to say the least.
---
Jakob Dylan & The Wallflowers were on tour supporting their newest album, Bringing Down the Horse. I had ordered the CD just before leaving for Seattle. I had not had a chance to listen to it before my trip. I thouroughly enjoyed their show despite not having heard most of the songs beforehand. This CD kicks ass!
Fellow IWUC attendee and music lover Sounia Nejad Chaney, Director of Marketing, ChainLink Networking Solutions before the show at Memorial Stadium with the Space Needle in the background.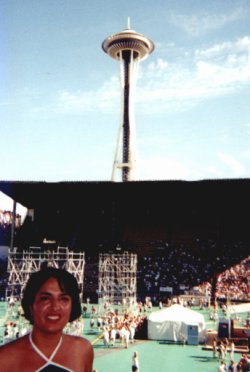 Sounia happened to be standing at the Concierge's desk when I picked up my Pearl Jam tickets. She attended both concerts and provided someof the pictures on this page. Our respective spouses regretted not coming along with us to the conference since it meant they missed a show they would liked to have seen.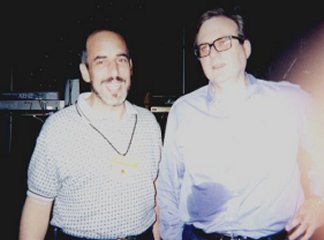 Me and Paul Allen at IWUC98
On July 22, 1998, the conference had a local band come in to entertain us. The band was Grown Men and it was fronted by none other than Microsoft co-founder Paul Allen. They put on a good show. They played for about 2 hours. A very tight set.
I have met a few millionaires over the years, but Paul Allen is the first billionaire that I have met. He was very approachable and seemed to really enjoy playing in front of a crowd of fellow computer geeks. Thanks to Sounia for taking this picture.
Paul Allen & Grown Men
On July 23, 1998, the IWUC organizers and BMG software rented out Planet Hollywood and Gameworks. If you are ever in Seattle, you have to stop by Gameworks.Very cool, state-of-the-art game center.
The food was good at Planet Hollywood as was the house band. The event was a chance to mingle with vendors and fellow attendees and have a good time. There was plenty to see and do. A lot of fun.
In the heart of downtown Seattle, corner of 6th and Pine, near Niketown and Gameworks, just blocks from the Pike Place Market. 21,000 sq. ft., seats over 300.
1500 Sixth Ave
Seattle WA 98101
Tel. (206) 287-0001