I purchased my 2000 Chrysler 300M on August 25, 1999 from Russ Carroll at Dayton Andrews Chrysler/Plymouth/Jeep. It is dark garnet red pearl coat with camel/tan leather interior. This car is hands down the best car I've owned! I love everything about it! It has great looks, fantastic handling, terrific ride, fast acceleration, nice interior and decent gas mileage (I am getting about 24MPG on any decent length trip).
I have put 3000 miles on my Chrysler 300M as of November 20,1999. I continue to be impressed. My commute to work is now just 10 miles so I don't put near as many miles and I enjoy any chance I get to go on a road trip.
| | |
| --- | --- |
| Vehicle Type: | front-engine, front wheel drive, 5-passenger, 4-door sedan |
| Base Price: | $29,295 |
| Engine Type: | SOHC 24-valve 3.5-liter V-6 |
| Power(SAE net): | 253 bhp @ 6400 rpm |
| Transmission: | 4-speed auto |
| Wheelbase: | 113.0 in |
| Length: | 197.8 in |
| Curb Weight: | 3550 lb |
| EPA fuel economy, city driving: | 18 mpg |
I decided about a year ago to start looking for a replacement for my 1988 Isuzu Spacecab LS 4X4. I put 130,000+ miles on this vehicle with few problems. In February of 1999, I began to take a hard look at the Chrysler 300M after being named Motor Trend's 1999 Car of the Year and Car & Driver's 10 Best. The 300M has a 3.5L High Output 24-valve V6 that outputs 253 horsepower @ 6400 rpm and 255 pound-feet of torque @ 3950 rpm. The 300M's size, performance, handling and great price put this car at the top of it's class.
I was impressed with the plush leather interior of this car. The passenger compartment is large, roomy and can seat 5 comfortably. This is a solid second generation cab forward design with excellent visibility in the front and rear seats. The only knocks on the interior are the fake accent wood and the lack of 300M badges. I have since added additional real wood trim and I like the trim better.
| | |
| --- | --- |
| Some may question the 300M's right to the Chrysler 300 letter car heritage, but the 300M is a luxurious, powerful sedan with exceptional handling (something the older letter cars could never claim). It moves quickly and deftly with little protest or noise all for about $30K. | The 300M moves with a 7.7-second run to 60 mph (only the 300J was faster), a quarter-mile run of 15.9 seconds at 89.2 mph and a top end around 140 MPH. |
The automatic transmission shifts quickly and cleanly with the shift from second to third being exceptionally nice. The Chrysler 300M also has AutoStick for more control of the shifting points. I find the automatic shifting points to be well chosen and you can easily control the amount of downshifting with the throttle.
I use the AutoStick on very curvy roads or when I want a quick burst of power. If you downshift from 4th to 2nd at 55MPH, you hit the sweet spot of the torque band and you can smoothly blast to 88MPH quickly before shifting to 3rd.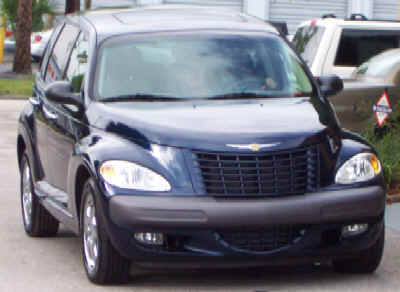 My wife Linda's 2001 PT Cruiser Limited Edition Edition!
Motor Trend's 2001 Car of the Year.
I opted for the Performance Handling Group package which includes stiffer suspension and steering, beefier vented 4-wheel anti-lock brakes, 16-inch special Michelin XGTV4 P225/60VR16 all-season performance radial tires, chrome wheels, and does not have the 118MPH electronic governor found on the base model.
The Performance Handling Group package gives a significant increase in handling and braking for a small amount of money. I have tested the top end, steering and brakes as much as I care to in such a new vehicle and the car has never complained once. I am not close to touching the limits of this vehicle despite putting the vehicle through it's paces.
Road Test
When I had about 800 miles on my Chrysler 300M, I took it out on the curviest, out of the way county road I could find. I found one that had some elevation change as well (which is hard to find in central Florida). I ran through the S's quickly the first time and after running to the other end, I decided it deserved a second pass. I then drove up and back, increasing speed when appropriate.
There is little front end plow or body roll during heavy cornering or braking. There is no heavy torque steer that I have noticed in other front wheel drive vehicles I have driven. My 300M performed flawlessly and repeatedly brought a smile to my face.
Motor Trend's 1999 Car of the Year
Car & Driver's 10 Best -1999, 2000, 2001

AutoWeek America's Best - 1999, 2000, 2001
2001 Consumer's Digest Best Buy
2000 Chysler 300 Hemi C Concept Car